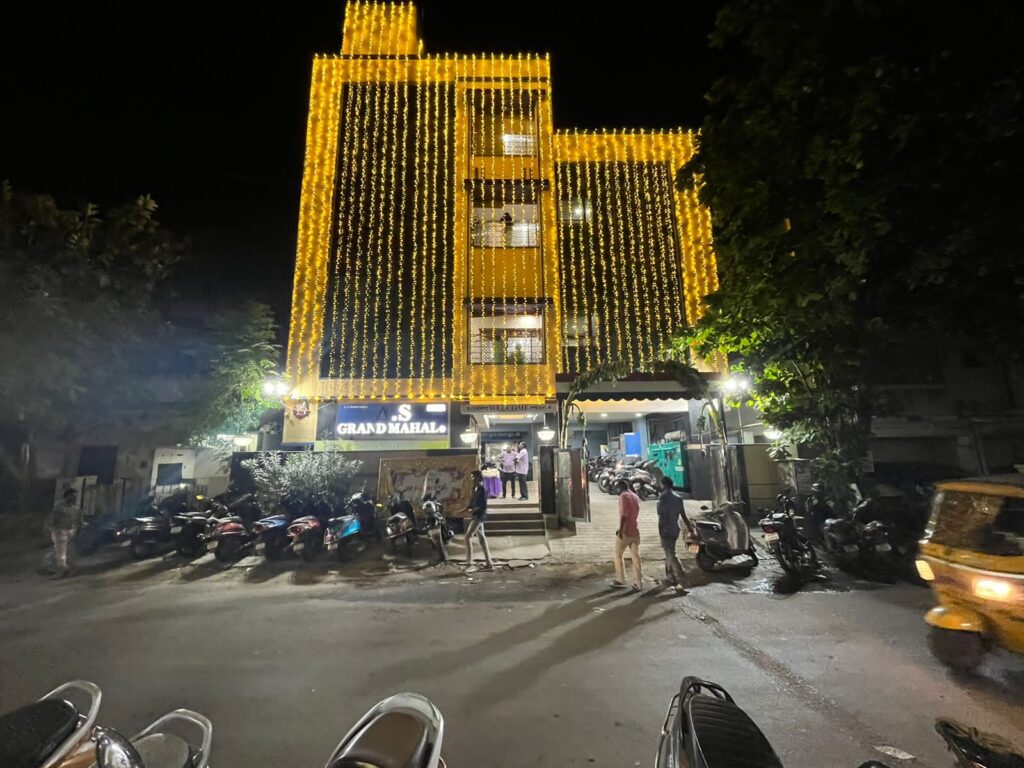 Marriage Halls in Ashok Nagar | Aasha Grand Mahal
Celebrate your special day in the lap of luxury at Aasha Grand Mahal, the ultimate destination for marriage halls in Ashok Nagar Chennai. Nestled in the heart of this vibrant neighborhood, our venue offers a perfect blend of opulence, convenience, and exceptional service to make your wedding an affair to remember.
Step into our magnificent marriage hall in Ashok Nagar Chennai, where elegance meets grandeur. With its spacious layout and tasteful decor, our hall provides a stunning backdrop for your dream wedding. Whether you're planning an intimate gathering or a lavish celebration, our venue can accommodate your needs and ensure that every moment is filled with joy and enchantment.
Located in the bustling Ashok Nagar area, Aasha Grand Mahal enjoys a prime location that is easily accessible for both you and your guests. Surrounded by popular neighborhoods such as KK Nagar, Vadapalani, Saidapet, and T Nagar, our venue is a convenient choice for couples looking for marriage halls in Ashok Nagar and its neighboring areas.
At Aasha Grand Mahal, we believe in creating bespoke experiences that reflect your unique style and preferences. Our dedicated team of event planners works closely with you to understand your vision and bring it to life. From exquisite decorations to personalized themes, we go the extra mile to ensure that your wedding day is a true reflection of your love story.
Indulge your guests in a culinary journey with our exceptional catering services. Our experienced chefs specialize in crafting delectable dishes that tantalize the taste buds. From traditional delicacies to international flavors, our diverse menu options cater to different palates and dietary preferences. With meticulous attention to detail and top-notch service, we ensure that your wedding feast becomes a gastronomic delight.
Aasha Grand Mahal has earned its reputation as one of the most sought-after marriage halls in Ashok Nagar Chennai for its commitment to excellence and impeccable service. With years of experience in the hospitality industry, our dedicated team understands the significance of your special day and works tirelessly to create unforgettable memories for you and your loved ones.
Experience the magic of Aasha Grand Mahal by contacting us today. Let us take care of every detail, from the venue setup to the flawless execution of your wedding ceremony. Trust us to make your wedding day a seamless and extraordinary affair, leaving you with cherished memories that will last a lifetime.
Make your dream wedding a reality at Aasha Grand Mahal, the premier choice for marriage halls in Ashok Nagar Chennai. Book your special day with us and embark on a journey of love, luxury, and lifelong happiness.
Contact us today at +91 44 4853 9397 or reach us via mobile at +91 739 771 8061 (11am to 11pm) or +91 984 217 1807 (24/7 Availability) to book your dream event at Aasha Grand Mahal. Let us be your trusted partner in creating memories that will last a lifetime.