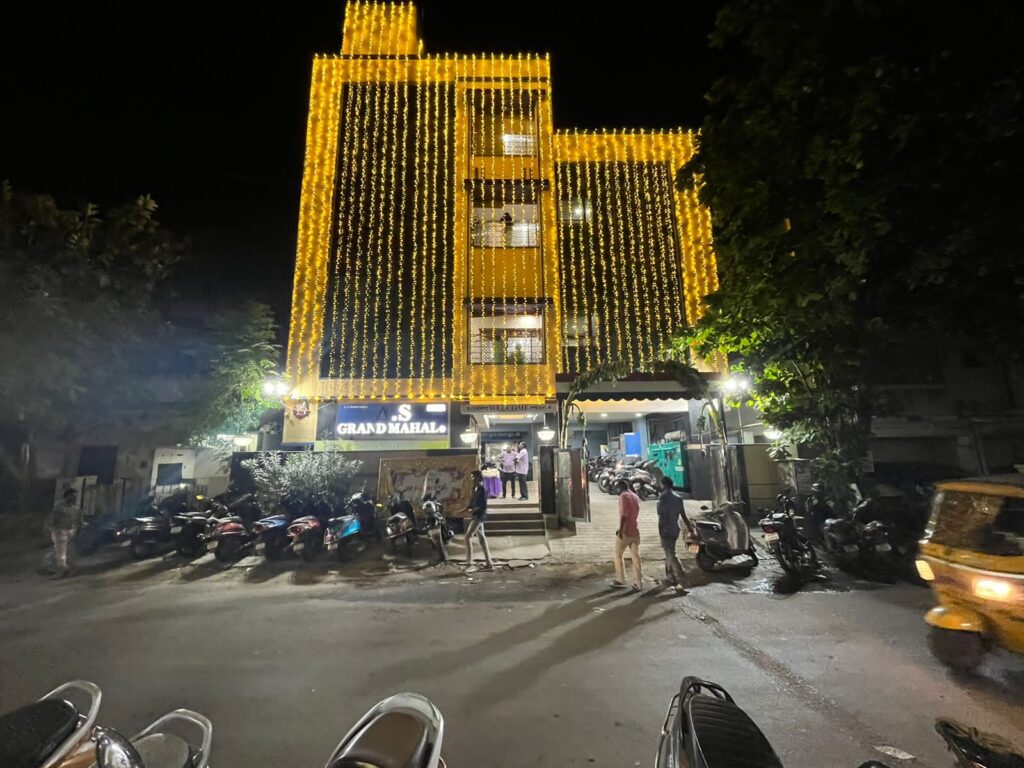 Banquet Halls in T Nagar | Aasha Grand Mahal
Welcome to Aasha Grand Mahal, the perfect venue for your grand celebrations. With ample space to accommodate up to 750 guests, our banquet halls in T Nagar is the epitome of luxury and grandeur. Whether you're planning a wedding, a corporate event, or any other special occasion, our large space ensures that your guests have plenty of room to mingle, dine, and celebrate in style.
Located in the heart of the city, Aasha Grand Mahal offers the convenience of a prime location in T Nagar. Situated in the bustling city center, our venue is easily accessible for your guests, making it a preferred choice for marriage halls in T Nagar. Being in such a central location also means that your guests can enjoy the vibrant energy of the city and explore its attractions before or after your event.
One of the standout features of Aasha Grand Mahal is our commitment to affordability without compromising on quality. We believe that every celebration deserves the best, which is why we offer unbeatable prices for our exceptional services. With us, you can enjoy top-notch facilities, impeccable service, and a memorable event, all at a price that fits your budget.
When it comes to catering, Aasha Grand Mahal leaves no stone unturned. We offer comprehensive catering options with a variety of cuisines to choose from. Our talented culinary team is skilled in preparing delectable dishes that cater to diverse tastes and preferences. Whether you desire traditional Indian delicacies or international favorites, we have the expertise to create a menu that will tantalize your guests' taste buds and leave a lasting impression.
Our commitment to excellence extends beyond the physical space. At Aasha Grand Mahal, we provide professional event planning and coordination services to ensure that every aspect of your event is taken care of. Our experienced team will work closely with you to understand your vision and bring it to life. From decorations and lighting to audiovisual equipment and entertainment, we will handle the logistics, allowing you to relax and enjoy the festivities as we strive to become the best wedding halls in T Nagar.
Step into our spacious and well-air-conditioned hall, designed to provide the utmost comfort for you and your guests. With state-of-the-art amenities and a captivating ambiance, our hall sets the stage for an unforgettable event. Whether it's an intimate gathering or a grand celebration, our venue is equipped to create the perfect atmosphere for your special day.
With over 22 years of experience in the hospitality industry, We have conducted more than 2000 events and served over 60,000 guests. Our reputation speaks for itself, and our dedicated staff, consisting of over 125 professionals globally, ensures that every event is executed with precision and perfection.
Choose Aasha Grand Mahal for your wedding, marriage, or banquet hall needs in T Nagar. Experience our exceptional services and let us make your event a truly memorable one.
Contact us today at +91 44 4853 9397 or reach us via mobile at +91 739 771 8061 (11am to 11pm) or +91 984 217 1807 (24/7 Availability) to book your dream event at Aasha Grand Mahal. Let us be your trusted partner in creating memories that will last a lifetime.